Digital Wellbeing in the New Normal World
---
Digital wellbeing is the positive impact of technologies and digital services on people's mental, physical, social and emotional health as well as their lives. Digital wellbeing is a complex concept that can be viewed from a variety of perspectives and has several aspects within a range of contexts.
Today, a world without Digital devices is unimaginable. They have become an extension, of us and digital connectivity is now a most basic human survival need. This in turn has many positive and negative implications. If digital life were a flowchart, it wouldn't be nice and neat, with square boxes and straight arrows. It would be a mess of thought bubbles filled with dramatic declarations and angst amidst a tangle of wiggly lines, a constant state of confusion and turmoil.
This transition to a more digitalised way of living, studying and working results in risks in the form of increased stress, isolation and exacerbates existing social inequalities. Governments, Employers and all stakeholders need to make sure there are systems in place to maximise the benefits of digitalisation while helping people minimise associated risks.
Overall, one should be aware of unforeseen mental health impacts. One example of an adverse feature to mental health is the endless scroll addition to social media platforms, such as Facebook and Instagram. This has been attributed to internet addiction, which has been correlated with high levels of anxiety, attention deficit hyperactivity disorder, depression, poor time management and impulsiveness. Educating the public at large, disseminating findings of research and mindful use of technology will help digital wellbeing. Ironically, there are several apps for digital well-being – fighting fire with fire! The pandemic has made being digitally connected, all the more essential, which has led to the New Normal.
A New Normal is a condition to which an economy, society, the world, settles following a crisis, when this differs from the state that existed prior to the start of the crisis. The term has been employed in relation to World War I, financial crisis of 2007–2008, the 2008–2012 global recession, and especially the COVID-19 pandemic.
As observed by El-Erian MA, 2010, it refers to the dramatic economic, cultural and social transformations that caused economic precariousness and social unrest, impacting collective perceptions and individual lifestyles and how it has transformed essential aspects of human life.
Digital Wellbeing in the New Normal World can be looked at in three contexts :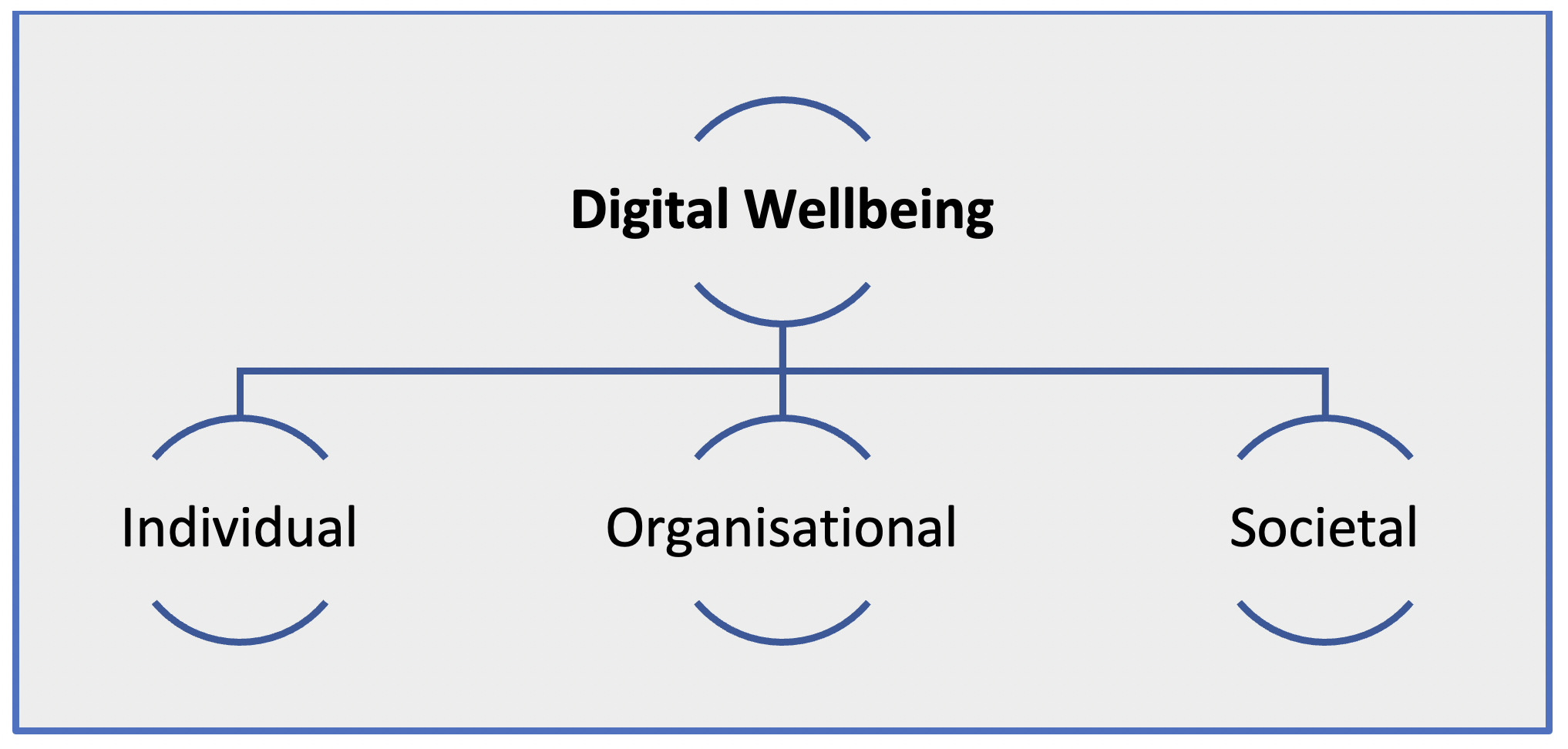 Individual digital wellbeing includes personal, learning and work contexts. This involves identifying and understanding the positive benefits and any potential negative aspects of engaging with digital activities and being aware of ways to manage and control these to improve wellbeing.
Jisc 2019: Model showing four aspects of digital wellbeing for individuals \ Source: https://media.jisc.ac.uk/images/DigitalWellbeing.width-1510.png
Organisational digital wellbeing
A healthy digital culture will not only bolster productivity, but it can also improve employees' physical and psychological wellbeing, which can have implications on employee experience, retention and recruitment. It prevents digital overwhelm, burnout and distraction. Working remotely led to 'digital presenteeism', where employees felt obligated to be seen to be responsive to digital communications.
Societal digital wellbeing
Providers of digital systems, services and content have a responsibility for ensuring that these are well managed, supported, accessible and equitable. They also need to empower and build capability in users so that all who engage with them are equipped to do so in a way that supports and/or improves their wellbeing
Mainstays of digital wellbeing

Created with input from – https://drkristygoodwin.com/why-organisations-must-prioritise-digital-wellbeing-in-2021/ 
Digital wellbeing leads to a more productive, well-adjusted and happier society. It is about mastering technology and NOT letting it master us – how technology serves us and moves us towards our goals, rather than distracting us, interrupting us or getting in the way. Hence, technology has to be designed in such a way such that it causes less fatigue, diversion and disruption; promotes healthy usage and proactively assists the user in practical ways to maintain a healthy lifestyle. A change in mindset, awareness and mindfulness is the key to achieve this.